About Restaurants
For Gastronomes Everywhere!

All About Restaurants
Welcome to Table Fifty-Two! Here you can learn everything you need to know about restaurants including a comprehensive US Restaurant Directory.
Many aspiring business owners consider owning and running a successful restaurant to be their ultimate goal in life. Nevertheless, whether you are new to the food service industry or have prior experience, you are probably aware that opening a restaurant is not that simple.
This industry has its own challenges and questions that need to be navigated and addressed before even attempting to open doors to paying customers.
Given the events of the past few years, the challenges faced by the people in this industry have multiplied. Several establishments permanently wrapped up their businesses when the pandemic forced restaurants to stop indoor dining. Because of these unprecedented circumstances, owning a restaurant became a pipe dream that had to be put on hold.
Restaurant owners worldwide are still suffering from the coronavirus's effects as the sector tries to recover. However, not all is doom and gloom. To meet the current challenges, the restaurant and food service industries have adopted new restaurant trends and styles to diversify their revenue streams to weather the crisis.
Considering these circumstances, it is wise to assess your possibilities and resources before starting a new restaurant. It is better to have a clear idea of the restaurant style you want, what kind of financial funding each style needs, what requirements need to be met for a good quality restaurant style, and what services need to be acquired to set up a successful new restaurant.
What Are The Different Restaurant Categorization Factors?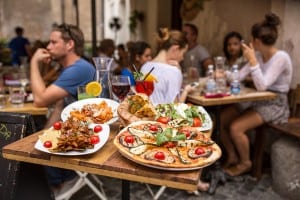 Before setting up any food service, it is vital to identify what category the menu will fall into, as this will help select the best restaurant style to serve food. Of course, this does not mean that the decided menu is set in stone; there is always room for improvement and elimination depending upon seasons and trends. It also depends on what you enjoy serving or what your restaurant specializes in.
Once this critical aspect is dealt with, now is the time to focus on the other factors that distinguish one restaurant from the next. The following are the most general and commonly used factors for categorizing restaurants:
Formality Levels: This factor influences the price of food and the ambience of the restaurant. The level of formality also determines whether a restaurant is upscale or casual. In addition to dictating the quality of service and decor in that establishment, it also dictates the expected attire of diners.
Table service versus counter service, as well as server attentiveness, are also based upon the formality level of a restaurant. For example, at a fine dining restaurant, customers expect high-end customized decor, full table service by attentive servers, and the attire of the staff is always formal.
In comparison, the atmosphere is more laid back in a casual restaurant. The decor, the patrons' casual clothing, and self-counter service or fewer servers are all indicators of casual restaurant dining.
Price: Restaurants range in price from being reasonably priced to quite expensive. The food prices depend upon the quality of ingredients used and the formality level of the restaurant. Google offers an easy way to look up restaurant pricing. Users can judge the prices by looking at the dollar signs that denote the average cost of a meal in the business's listings:
$ - cheap (usually $10 and below.)
$$ - reasonably priced (between $10-$25)
$$$ - costly (between $25-$45)
$$$$ - expensive (usually $50 and up)
The prices listed above are an estimation based on costs charged at various restaurants in the United States.
Different Types of Food Options: The style, quality, food presentation, and serving style at various restaurants further distinguish them from one another. Many restaurants create their own signature food styles to increase brand recognition.
Food Types: Menus may be influenced by local or regional cuisine or a chef's exclusive innovations. Many restaurants create menus focused on particular varieties of food, such as pizzerias and steakhouses, or even on specific diets, such as plant-based diets.
Ingredient Quality: The type of ingredients, their origin, and the method of preparation impact quality. A diner might only use organic, fresh, and local ingredients. In contrast, a cafe's menu might include only preservative-infused processed foods. Sometimes a restaurant may specialize in preparing food in large quantities quickly according to a deliberate, made-to-order process.
Meals Presentation: While some restaurants use a more understated, straightforward presentation, others use highly aesthetically pleasing garnishes. Depending on the restaurant, food may be served on exquisite dinnerware or only in disposable take-out packaging.
Restaurant Unique Branding: Branding for restaurants helps to express the character and identity of the establishment. A restaurant's brand communicates its principles and profoundly impacts the food, concept, and atmosphere. A carefully developed brand has the potential to make an emotional connection with its customers.
What Are Different Foodservice And Restaurant Styles?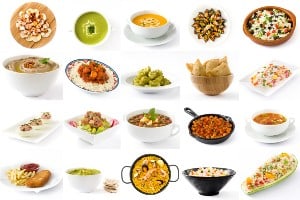 Now that we have established what defines a restaurant style, let's look at some of the most popular restaurant styles and what customers expect to see, feel, and eat at each of these establishments.
We have found eleven types of different restaurant types:
You can read more details about each of the 11 types of restaurants below:
Fine Dining Restaurants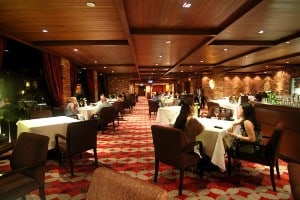 Fine dining refers to high-end venues with only top-quality food and service. People usually visit these restaurants to celebrate special days like anniversaries, birthdays, or weddings. Regular customers in fine dining restaurants belong to the upper classes of society. Therefore, the service required in either case is top-notch, with little room for error. The following traits characterize the majority of fine dining restaurants:
Fine dining etiquette and formal dress are required.
Formal dining setting, dinnerware, and opulent furnishings and set-ups.
Typically, they employ large numbers of servers and other employees. The staff is more polite and attentive when taking down orders and serving meals adhering to specific etiquette rules.
Menus usually include exotic or unique cuisine and ingredients.
Several fine dining establishments have sommeliers to assist customers with food and wine pairings.
Google price ratings: $$$-$$$$
Casual Dining Restaurants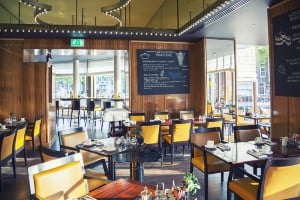 Casual dining restaurants are usually located in places that can offer higher footfall. These restaurants provide a brief reprieve from the daily routine in the form of a comfortable environment emphasizing good food. The ambience in a casual dining restaurant varies greatly depending on the brand and intended customer base. Most share the following character traits:
Menus with reasonable prices
Service at the table
The atmosphere is low-key and prioritizes seating arrangement over the personal space of individual customers.
distinct decor style
Google price ratings: $$
Contemporary Casual Restaurants
Contemporary casual restaurants are a reasonably recent addition to the restaurant styles hemisphere. Modern and stylish with recognizable brands, these restaurants are a new breed favored explicitly by the millennial generation. Many contemporary casual cafes and eateries adhere strictly to eco-friendly protocols and usually offer dishes with unique twists on traditional foods. You can expect healthy food choices based on fusion cuisine:
Standard table service.
A signature, stylish and contemporary environment.
Offer signature chef menu items and signature dishes not usually found in other restaurants.
May offer self-service or a smaller server.
Place a strong emphasis on visuals with foods and interior decor that are always Instagram-worthy.
Google price ratings: $$-$$$
Fast Food Restaurants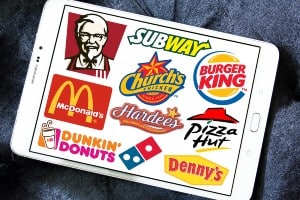 You're likely familiar with the most popular fast-food restaurants, like McDonald's and Taco Bell. Fast-food restaurant chains with consistent menus are now available worldwide thanks to franchise operations. Fast food customers handle all aspects of ordering and picking up orders, except preparing the meal. Below are the characteristics shared by most fast-food places:
There is little waiting time because food and drinks are often served instantly.
Fast food restaurants are easily accessible and offer counter service.
For extra convenience, several fast-food establishments offer drive-thru ordering.
Usually, a chain serves standardized meals made of processed food.
The decorations and ambience are laid-back and relaxed.
Food is served in disposable items, like plastic containers, paper food trays, and to-go bowls.
Fast food restaurants strive to provide the same quality anywhere they operate.
Fast food restaurants offer versatility by allowing refunds or any customer's request to adjust what they have previously purchased.
Google price ratings: $
Fast Casual Restaurants
A fast-casual restaurant blends the comfort and speed of fast-food chains with the sit-down service of fine dining. Fast casual restaurants usually provide healthy menu offerings and use fresh products. The atmosphere of the dining area is given more attention in these restaurants. Fast-casual restaurants are increasingly popular because they offer quick meals that are more economical than sit-down, formal restaurants yet healthier than fast food. Most fast casual restaurants have the following characteristics:
The quality of food and prices are usually higher than in fast food joints but lower than in casual dining.
Customers in a hurry can receive a speedy counter service by paying when they place an order.
Elegant, modern furnishings and decorations provide a relaxed dining experience.
Customers can eat well without going over budget or missing a meeting.
Usually, the restaurant has a list of familiar dishes on the menu.
These restaurants often close before midnight.
Google price ratings: $-$$
Cafes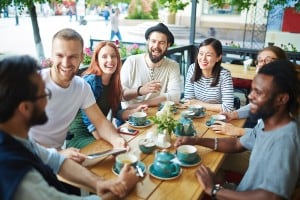 Whether you need a quick cup of coffee on your way to work or are catching up with an old friend, cafes provide a versatile space for different purposes. With the promise of a pleasant environment, restaurants offer high-quality food and coffee. Customers place their orders from a counter and serve themselves. Most restaurants have the following attributes:
Usually serve coffee, tea, pastries, sandwiches, and small items for breakfast and lunch.
Casual, relaxed, cozy environment.
They provide a good combination of food and drink options on their menus.
They play music or tracks from genres like acoustic and classical music suited to a semi-workplace environment.
Cafes often provide power outlets or install portable charging stations.
Many people might work or socialize in cafes.
Google price ratings: $-$$
Buffet-Style Restaurants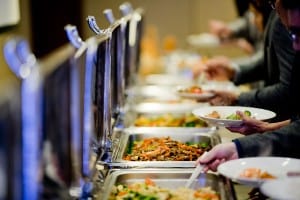 Buffets allow guests to customize their dining experience by providing an array of options to choose from. Some are referred to as "All You Can Eat" restaurants, and most feature a theme, such as buffets that specialize in Chinese or Indian food. They are perfect for achieving an adaptable dining area that can easily change and perfectly adjust to any standard. Many buffets often adopt a theme for their cuisines, such as those that focus on barbeque or seafood. Below are common characteristics of a buffet:
Offer several dishes at a fixed price.
Food on buffet bars from which guests serve themselves.
Customers and employees can quickly and easily access food thanks to buffet tables' two-sided access.
Modest to extensive selection (might include salad, soup, appetizers, hot entrees, dessert, and fruit).
It could feature one cuisine or multiple and accommodate up to hundreds of guests.
Usually casual yet elegant decor.
Google price ratings: $$
Family-Style Restaurants
A variation of casual restaurant settings is the family-style restaurant. These are also referred to as "large format dining." There are different serving styles followed by different family restaurants. A few family-style restaurants serve shareable platters, while others provide a family-style option and individual servings of the same dishes. If you are opting for a family-style restaurant, you might find the following characteristics:
Large platters of food are served for sharing between parties.
Servers serve food platters or servings at the table.
In the case of family platters, guests in the party pass the dishes around and serve themselves.
Although most family-style restaurants have a more relaxed vibe, many upscale family-style restaurants fall under a fine dining-style setup.
Google price ratings: $$-$$$$
Food Trucks & Concession Stands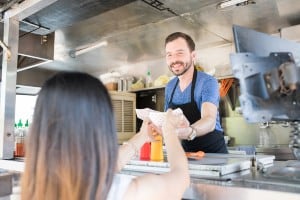 Food trucks and concession stands can take various forms. This might be your city street falafel food truck, baseball game hot dog stand, or organic burger food truck. Food stands and trucks are convenient options, as owners purchase a small unit (food truck or stand) instead of a large brick-and-mortar space. They are frequently spotted at auto exhibitions, markets, concerts, and carnivals. While the range of food types and quality of food differ, most food trucks and concession stands share the following characteristics:
Normally serve a small menu with a singular type of food (hot dogs, ice cream, sandwiches, smoothies, etc.)
They are mobile.
Customers serve themselves, i.e., self-service.
Meals and snacks are easily accessible at sports arenas, in the park, or at outdoor concerts.
Food truck mobility makes it simpler to travel in urban areas.
Food is partially or fully pre-made.
Google price ratings: $-$$
Pop-Up Restaurants
Pop-up restaurants, bars, and stands are a new trend that allows owners, chefs, and guests to try new food, restaurant concepts and creations. Pop-up restaurants can be anything from a beer garden only open for the summer to a sit-down restaurant in an unconventional location that's briefly open for a month or two. The short supply creates hype and a strong urge for targeted customers. Below are some of the qualities of a pop-up food concept:
Operates temporarily from a few hours to a few months.
The locations vary from shipping containers and old, unused buildings to outdoor spaces and rooftop gardens.
A creative, contemporary concept like the chef's takes on grilled cheese sandwiches or a specific type of cuisine.
It may include counter service, food stand, truck service, or full table service.
Depend on technology and social media to spread the word.
Need several kitchen supplies to set up the business.
Google price ratings: $$-$$$
Ghost Kitchen Restaurants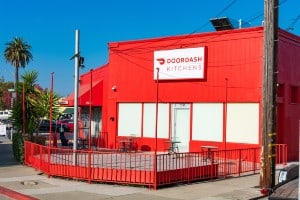 Ghost kitchen restaurants are also known as virtual restaurants or delivery-only restaurants. Ghost restaurants minimize overhead costs so owners and chefs can focus on efficiency and developing quality culinary creations. They have more flexibility to alter their menus, as they don't need to change physical copies and only need to update their websites. Most ghost kitchen restaurants have the following features:
Delivery only
No on-site dining and no physical presence.
Partner with third-party delivery services, like Grubhub or UberEats.
Setup and operations expenses are lower.
No brick-and-mortar location.
Range of food types.
Strong website and social media presence.
Google price ratings: $$
What Are The Industry Classifications Of Restaurants?
According to the NAICS (a classification system that best depicts primary business activity and assigns codes), there are 4 main classifications of "Restaurants and Other Eating Places (7225)":
722511 - Full-Service Restaurants: This U.S. industry comprises establishments primarily engaged in providing food services to patrons who order and are served while seated (i.e., waiter/waitress service) and pay after eating. These establishments may provide this type of food service to patrons in combination with selling alcoholic beverages, providing carryout services, or presenting live nontheatrical entertainment.
722513 - Limited-Service Restaurants: This U.S. industry comprises establishments primarily engaged in providing food services (except snack and nonalcoholic beverage bars) where patrons generally order or select items and pay before eating. Food and drink may be consumed on premises, taken out, or delivered to the customer's location. Some establishments in this industry may provide these food services in combination with selling alcoholic beverages.
722514 - Cafeterias, Grill Buffets, and Buffets: This U.S. industry comprises establishments, known as cafeterias, grill buffets, or buffets, primarily engaged in preparing and serving meals for immediate consumption using cafeteria-style or buffet serving equipment, such as steam tables, refrigerated areas, display grills, and self-service nonalcoholic beverage dispensing equipment. Patrons select from food and drink items on display in a continuous cafeteria line or from buffet stations.
722514 - Snack and Nonalcoholic Beverage Bars: This U.S. industry comprises establishments primarily engaged in (1) preparing and/or serving a specialty snack, such as ice cream, frozen yogurt, cookies, or popcorn, or (2) serving nonalcoholic beverages, such as coffee, juices, or sodas for consumption on or near the premises. These establishments may carry and sell a combination of snack, nonalcoholic beverage, and other related products (e.g., coffee beans, mugs, coffee makers) but generally promote and sell a unique snack or nonalcoholic beverage.
There are also a few more classifications of food service establishments that are related:
722410 - Drinking Places (Alcoholic Beverages): This industry comprises establishments known as bars, taverns, nightclubs, or drinking places primarily engaged in preparing and serving alcoholic beverages for immediate consumption. These establishments may also provide limited food services.
711110 - Theater Companies and Dinner Theaters: This industry comprises (1) companies, groups, or theaters primarily engaged in producing the following live theatrical presentations: musicals; operas; plays; and comedy, improvisational, mime, and puppet shows and (2) establishments, commonly known as dinner theaters, engaged in producing live theatrical productions and in providing food and beverages for consumption on the premises. Theater groups or companies may or may not operate their own theater or other facility for staging their shows.
Can Restaurants Use Flexible Categorization Criteria?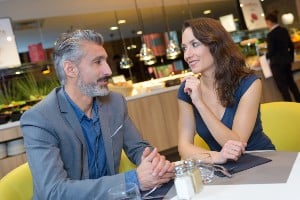 Price is the main factor that is usually very flexible in the restaurant industry. People eating out are not just paying for the food; they are also paying for the experience. Prices for menu items vary widely between restaurants.
When opting for similar kinds of cuisine, you will always find fine dining restaurants charging much more compared to the price of a somewhat matching option sold at a fast-casual restaurant.
On the other hand, even when looking at similar styles of restaurants that offer family-style dining options, you can find places that provide non-expensive menus to more upscale ones offering fine dining experiences and prices.
These significantly varying prices can also be expected at pop-up restaurants. Some offer hip and trendy cuisines at reasonable rates, while others offer fares that are very much up in the price range. The specific way various elements and ingredients are used in creating the menu, and the restaurant experience is typically how restaurant owners conceptualize their establishment and set their goals.
However, price is not the only flexible factor in the restaurant business. In these post-COVID-19 times, innovation is at its finest in all industries that suffered extensively during the lockdowns.
What Are The Current Innovative Ideas & Creative Twists In The Food Service Industry?
New ideas and creative spins on traditional restaurant styles will undoubtedly keep surfacing as the restaurant industry continues to grow. If you want to open a restaurant in current times, "the sky is the limit". There is no set of rules on traditional dining styles that cannot be customized to meet the customers' preferences and the upgraded health and safety requirements.
The food products, dining utensils, and service trends becoming more prevalent in 2022 have never been seen in history. Dining behavior in a more socially and environmentally conscious world heavily leans toward quality over quantity.
Restaurants are starting to invest more in adapting to the challenges that brought the industry to a standstill during COVID. The most noticeable changes were seen in restaurant labor management trends, marketing strategies, products, customer service, and delivery trends.
Better Restaurant Labor Management Trends: The restaurant business, especially fast food chains and fast-casual restaurants, were the first to adapt to automation in the form of touch screens and QR code menus instead of the usually laminated booklets. This practice minimizes unnecessary contact and protects both the servers and the customers.
This brings us to better compensation, incentives, and overall investment in better work culture. The previous few years have shown us that employers must step up their game to keep their top talent and attract more qualified applicants. It is imperative to ensure better work and life balance through effective management, communication, and healthy workplace relationships.
This is the only way of moving forward, and restaurants have any chance to survive should anything unforeseen occur again.
Innovative Products and Services: Let's say it and get it out of the way first, "Single-Use Plastic Is OUT." This is not just a trend anymore; this practice will continue in the foreseeable future as restaurants, and other businesses start to embrace social responsibility.
Many restaurants are taking it upon themselves to reduce their carbon footprint and other environmental harm. And with the promise of the availability of a wide variety of eco-friendly disposable products, it will become standard practice.
Restaurants cannot just provide customers with their meal on the table and call it a day in these times. One of the hottest dining trends of 2020 and 2021 was ghost kitchens and virtual brands, which are likely to continue into 2022.
Many restaurants have opted to operate using a "ghost kitchen model" rather than having a physical location to meet the high demand for deliveries. This means that restaurants with brick-and-mortar locations need to attract attention and entice customers to dine in by providing an even more enhanced dining experience.
Restaurants that showcase PFAS-free products, eco-friendly practices, advanced cleaning and safety procedures, and hygienic outdoor dining options are set to meet the changing expectations of the industry. These factors can be just as vital for a successful restaurant as its distinctive menu concepts and appealing interior design.